Collaboration meetings of the IZeF and the Institute for Research in Education (IfB)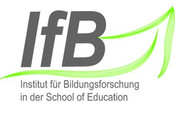 Since 2016 there has been a research cooperation with the Institute for Research in Education (IfB) of the University of Wuppertal. Regular meetings take place every six months.
The current situation makes it necessary that we unfortunately have to cancel the collaboration meeting between the IZeF and the IfB planned for March 30th, 2020. We will announce a new date as soon as the situation around the CORONA virus has sorted itself out again. Please forward this cancellation to your teams or within your university.

Would you like to find out more about the collaboration initiative? Do you have your own project relevant to the theme of "Heterogeneity in school and teaching"? There are various possibilities for participation, e.g., by joining existing/planned or new projects! Please contact us.